Hydrafacials are a cutting edge facial technology used for cleaning and rejuvenating the skin cells on the face. The hydrafacial machine uses four different types of water pumps to create a 'vortex' effect on the skin cells in a non-invasive, non-damaging, and pain-free way.
It's the unique serum delivery system that puts the HydraFacial into a category of its own.
Watch the multi-step treatment cleanse, exfoliate and extract to get rid of impurities and dead skin cells while at the same time quenching skin with vital nutrients like antioxidants, peptides and hyaluronic acid. The amazing results are both instant and long-lasting.
NEED AN EXTRA BOOST?
Tailor your treatment with award-winning super serums to address specific skin concerns.
DERMABUILDER BOOST
Minimizes signs of aging and recharges skin with a patented combination of peptides.
GROWTH FACTOR BOOST
Minimizes the appearance of fine lines and wrinkles to restore skin health and vitality.

BRITENOL BOOST
Minimizes the appearance of dark spots and sun spots for an even complexion.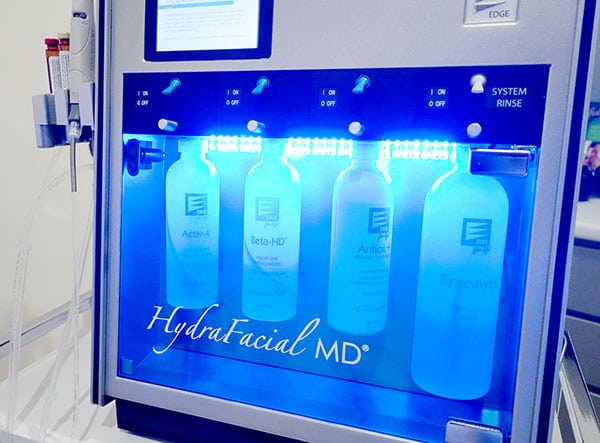 Cleansing
The first layer of water pumps will be cleansing the top layer of the skin to prevent pollutants from being pushed in.
Exfoliation
Next, the skin will be exfoliated to open up the pores and make for an easier extraction.
Extraction
From here the water is shot into the pores and funneled back into a catch.
Fusion
Finally the water will be closing up the now cleaned pores.
What happens after my Hydrafacial?
First, the procedure typically lasts in between 15-30 minutes, so you can come in and have the procedure done on a lunch break!
On average, the heightened results last from 5-7 days and can last longer with proper skin treatment and maintenance. For the optimal experience, we recommend our hydra facials to clients on a monthly basis. This is optimal for skin cleanliness and health.
Most people who benefit from this facial are those who don't want to undergo the process of chemical peeling. Sensitive clients who don't like the tingling effect of the chemical peeling report having a 'cool paintbrush' effect on their skin during the procedure.
COMPLETE THE FORM FOR MORE INFORMATION